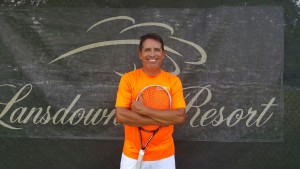 Please scroll down for the
RJT Junior Drop-In Outdoor Schedule:
Monday, July 17 through
Sunday, July 23
44050 Woodridge Pkwy, Leesburg, VA 20176
To register for an RJT Drop-In/Make-Up Clinic:
Please don't plan to attend any RJT clinic until you first receive an e-mail confirmation.
Cancellation Policy:  Once you receive an e-mail confirmation, a 24 hour notification is required to cancel your participation in any drop-in/make-up clinic to avoid the cancellation fee.  Same day cancellations, for any reason, will incur the cancellation fee.
---
Monday, July 17
---
RJT VARSITY PREP POWERRRR DRILLS!™
– 13 & older
Lansdowne Resort Member Fee:  $20
Lansdowne Resort Guest Fee:  $25
7:30 to 8:30 AM – openings available

8:30 to 9:30 AM – openings available
RJT JUNIOR STROKE IMMERSION™
Lansdowne Resort Member Fee:  $20
Lansdowne Resort Guest Fee:  $25
7:30 to 8:30 AM

10 & under – openings available

8:30 to 9:30 AM

10 & under – openings available

5:00 to 6:00 PM

10 & under – openings available

6:00 to 7:00 PM

6 & under – openings available

7:00 to 8:00 PM

11 & older – openings available
RJT JUNIOR POWERRRR TENNIS CAMP™
Lansdowne Resort Member Fee:  $20
Lansdowne Resort Guest Fee:  $25
8:00 to 11:00 AM

10 & under – openings available

11 & older – openings available

4:00 to 7:00 PM

10 & under – openings available

11 & older – openings available
---
Tuesday, July 18
---
RJT VARSITY PREP POWERRRR DRILLS!™
– 13 & older
Lansdowne Resort Member Fee:  $20
Lansdowne Resort Guest Fee:  $25
7:30 to 8:30 AM – openings available

8:30 to 9:30 AM – openings available
RJT JUNIOR STROKE IMMERSION™
Lansdowne Resort Member Fee:  $20
Lansdowne Resort Guest Fee:  $25
7:30 to 8:30 AM

10 & under – openings available

8:30 to 9:30 AM

10 & under – openings available

5:30 to 6:30 PM

10 & under – openings available

6:30 to 7:30 PM

6 & under – openings available

7:30 to 8:30 PM

11 & older – openings available
RJT JUNIOR POWERRRR TENNIS CAMP™
Lansdowne Resort Member Fee:  $20
Lansdowne Resort Guest Fee:  $25
8:00 to 11:00 AM

10 & under – openings available

11 & older – openings available

4:00 to 7:00 PM

10 & under – openings available

11 & older – openings available
---
Wednesday, July 19
---
RJT VARSITY PREP POWERRRR DRILLS!™
– 13 & older
Lansdowne Resort Member Fee:  $20
Lansdowne Resort Guest Fee:  $25
7:30 to 8:30 AM – openings available

8:30 to 9:30 AM – openings available
RJT JUNIOR STROKE IMMERSION™
Lansdowne Resort Member Fee:  $20
Lansdowne Resort Guest Fee:  $25
7:30 to 8:30 AM

10 & under – openings available

8:30 to 9:30 AM

10 & under – openings available

5:30 to 6:30 PM

10 & under – openings available

6:30 to 7:30 PM

6 & under – openings available

7:30 to 8:30 PM

11 & older – openings available
RJT JUNIOR POWERRRR TENNIS CAMP™
Lansdowne Resort Member Fee:  $20
Lansdowne Resort Guest Fee:  $25
8:00 to 11:00 AM

10 & under – openings available

11 & older – openings available

4:00 to 7:00 PM

10 & under – openings available

11 & older – openings available
---
Thursday, July 20
---
RJT VARSITY PREP POWERRRR DRILLS!™
– 13 & older
Lansdowne Resort Member Fee:  $20
Lansdowne Resort Guest Fee:  $25
7:30 to 8:30 AM – openings available

8:30 to 9:30 AM – openings available
RJT JUNIOR STROKE IMMERSION™
Lansdowne Resort Member Fee:  $20
Lansdowne Resort Guest Fee:  $25
7:30 to 8:30 AM

10 & under – openings available

8:30 to 9:30 AM

10 & under – openings available

5:30 to 6:30 PM

10 & under – openings available

6:30 to 7:30 PM

6 & under – openings available

7:30 to 8:30 PM

11 & older – openings available
RJT JUNIOR POWERRRR TENNIS CAMP™
Lansdowne Resort Member Fee:  $20
Lansdowne Resort Guest Fee:  $25
8:00 to 11:00 AM

10 & under – openings available

11 & older – openings available

4:00 to 7:00 PM

10 & under – openings available

11 & older – openings available
---
 

Friday, July 21
---
RJT VARSITY PREP POWERRRR DRILLS!™
– 13 & older
Lansdowne Resort Member Fee:  $20
Lansdowne Resort Guest Fee:  $25
7:30 to 8:30 AM – openings available

8:30 to 9:30 AM – openings available
RJT JUNIOR STROKE IMMERSION™
Lansdowne Resort Member Fee:  $20
Lansdowne Resort Guest Fee:  $25
7:30 to 8:30 AM

10 & under – openings available

8:30 to 9:30 AM

10 & under – openings available

5:30 to 6:30 PM

10 & under – openings available

6:30 to 7:30 PM

6 & under – openings available

7:30 to 8:30 PM

11 & older – openings available
RJT JUNIOR POWERRRR TENNIS CAMP™
Lansdowne Resort Member Fee:  $20
Lansdowne Resort Guest Fee:  $25
8:00 to 11:00 AM

10 & under – openings available

11 & older – openings available

6:30 to 9:30 PM

10 & under – openings available

11 & older – openings available
---
 

Saturday, July 22
---
RJT VARSITY PREP POWERRRR DRILLS!™
– 13 & older
Lansdowne Resort Member Fee:  $20
Lansdowne Resort Guest Fee:  $25
7:30 to 8:30 AM – openings available

8:30 to 9:30 AM – openings available
RJT JUNIOR STROKE IMMERSION™
Lansdowne Resort Member Fee:  $20
Lansdowne Resort Guest Fee:  $25
RJT JUNIOR STROKE DEVELOPMENT™
Lansdowne Resort Member Fee:  $20
Lansdowne Resort Guest Fee:  $25
7:30 to 8:30 AM

6 & under – openings available
---
 

Sunday, July 23
---
RJT VARSITY PREP POWERRRR DRILLS!™
– 13 & older
Lansdowne Resort Member Fee:  $20
Lansdowne Resort Guest Fee:  $25
8:00 to 9:00 AM – openings available

9:00 to 10:00 AM – openings available
RJT JUNIOR STROKE IMMERSION™
Lansdowne Resort Member Fee:  $20
Lansdowne Resort Guest Fee:  $25
8:00 to 9:00 AM

10 & under – openings available

9:00 to 10:00 AM

10 & under – openings available
---
Private Lessons are available
---
Private Lessons:
Lansdowne Resort Members:  $65 per hour
Lansdowne Resort Guests:  $80 per hour
Semi-Private Lessons (2 people)
Lansdowne Resort Members:  $80 per hour
Lansdowne Resort Guests:  $95 per hour
Group Lessons: (3 or more people)
Lansdowne Resort Members:  $25 per person/per hour
Lansdowne Resort Guests:  $35 per person/per hour
---
RJ TENNIS LLC ®
Copyright © 2017 Rob Carvajal, Jr./
RJ TENNIS®
All Rights Reserved