ALL AMERICAN
W.T. Woodson High School Divers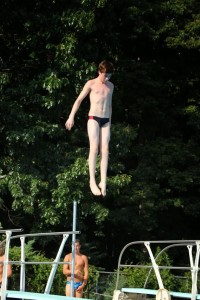 Many of you may know that along with coaching tennis, I am also a springboard dive coach.  I have been doing so for thirty years.  Throughout the years that I have been coaching springboard diving, I would say, "Today, I am going to change the diving world."   I know some would laugh each time I would say it, but I was serious.  Wendy never laughed.  She knew I was serious.  As the coach, that was always my mission and it still is.
This summer I learned that two of my four boy divers from the 2015 W.T. Woodson High School Dive Team had received All  American Honors.  Although my other two boy divers qualified for All American consideration, regrettably, they didn't make it past the top cut.  Only a handful of athletes from across the country earn the rare distinction of being called, "All American."
In going over the list of All American recipients, I saw there were only four high schools in the nation that each had two divers receive All American Honors.  It's exciting and humbling to think that the W.T. Woodson boys dive team was one of the best high school dive teams in the country, and quite possibly, the best in the country.
It's hard to believe that the 2015/2016 Varsity Dive season is starting up again. The W.T. Woodson boys dive team will be working on their tenth Virginia State Team Championship in the fifteen teen years I have been coaching them.  I have one senior and  two sophomore boys and the rest are freshmen.  I am excited to see how this season is going to unfold.  If successful, this will be my twentieth Virginia State Team Championship in my thirty years of coaching.  There is no doubt I am going to give it my best.  Because, each day I go to dive practice, I still say, "Today, I am going to change the diving world."
Rob the tennis coach, springboard dive coach and life coach
Director of Adult Tennis
@ The Four Seasons Tennis Club
RJ TENNIS LLC ®
Copyright © 2017 Rob Carvajal, Jr./RJ TENNIS®
All Rights Reserved