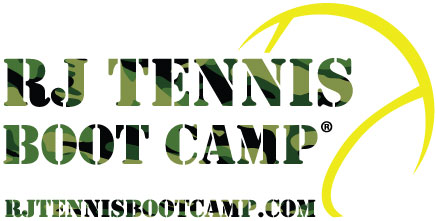 The other night I was watching a business program and someone on the tv show said, "Evolve or be left behind."  I sat there on the couch with my eyes glazed over as those few words were resonating within my mind, "Evolve or be left behind."  I sat up and stopped the program and watch that part over and over again.  I said, "Yes!  Evolve or be left behind."
When I created and introduced the RJ TENNIS BOOT CAMP® program in 2009 there was nothing like this in the metropolitan area.  There were cardio tennis programs at various clubs, but all you did was hit tennis balls and went running.  It didn't matter what your level of play was.  4.5 players could be in the same groups as beginner players.  Although the cardio tennis format was different than the traditional three or four players and a pro tennis clinic.  I had taken the traditional clinics and the cardio clinics, but was left wanting.  I always believed that the hour and a half could be so much more enjoyable and exhilarating than it was.  I believed that the hour and a half group tennis clinic could be a great experience.
After coaching for eighteen years and doing the same thing that was being done in the industry, I was never happy about it.  As a springboard dive coach,  I had developed an exciting and energizing dive program that was at the forefront of the sport.  I knew the same could be done for tennis.  After years and years of experience and observations of the sport, I created and developed the RJ TENNIS BOOT CAMP program.
The program that I created in 2009 is nothing like the program that we have today.  Why?  It's evolve or be left behind.  I believe that.  Everyday I work to continue to grow the program and the vision I have for RJ TENNIS BOOT CAMP.  I am passionate about the program and I believe in everything it can do to improve everyone's tennis game and life.  There is no end to the improvements that can be made to anyone's game, at any level.  My boot camps attract a certain mindset.  People who are excited about learning the game, tennis players who want to grow their game, hard workers, disciplined players, determined to achieve more, reach a higher level, win more, always moving up.
I often get e-mails like the following:
"The RJT clinic was a blast last night.   RJT Coach Safin was awesome and it was a really lot of fun and challenging, and a great workout as well.  I am recovering today, but this is exactly what I need right now.  I do admire your passion and what you have created.  The RJ Tennis attitude and philosophy of being all in and just going for it on all your shots really speaks to me.  I am absolutely making RJ Tennis part of my weekly routine."
As a springboard dive coach, I have always told my athletes that the dive team is much more than just diving.  Likewise, the RJ TENNIS BOOT CAMP is much more than tennis.  It's about life.  Like life, you get out of it whatever it is that you put into it.  As there is no end in the improvements that you can make in your tennis game, likewise, I believe there is no end in the improvements I can make in everything I do.  Thus, I am working hard to make RJ TENNIS BOOT CAMP a great and even better experience everyday.
Thank you for the opportunity to serve you.
Humbly & Respectfully,
Rob the tennis coach, springboard dive coach & life coach
Director of Adult Tennis
@ The Four Seasons Tennis Club